Firefighter Apparel and Gift Ideas
Firefighter apparel and gifts including tee's, sweat shirts, polo shirts and gift ideas for firefighters with fire dept logo, firefighting maltese cross and the words fire fighter from Bonfire Designs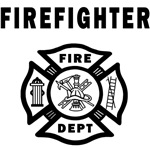 Firefighter T-Shirts and Gifts!
Firefighter t-shirts and gifts featuring fire and flames symbol maltese! T-shirts for every fireman, female firefighter and gifts for firefighters and your fire department.
Fire Chief Gifts and T-shirts
Fire Chief and firefighter t-shirts and gift clocks, personalized fire chief mugs and matching coasters as well as fire chief sweatshirts and more!
Fire Rescue Maltese
Firefighter apparel and gifts featuring fire rescue theme maltese cross and fire department logos are great holiday gifts for firefighters, female firefighter apparel and home decor.
Firefighter EMT T-Shirts and Gifts!
Firefighter EMT t-shirts, gift mugs, mousepads, personalized clocks and even fire EMT personalized tote bags. Perfect birthday presents and holidays for home and office!
Fire Rescue
Fire Rescue and Firefighter apparel and gifts features fire dept logo with fireman, heavy rescue tools and the words Fire and Rescue. Firefighting scramble in the center decal from Bonfire Designs.
Firefighters Go Green To Save Our Planet
Firefighters go green and now they save our planet as well as our homes, families and property! Firefighting goes solar with clean energy and recycling at the fire station and home.
Fire Dept
Firefighter and fire dept patch logo for firefighters features maltese cross in red, hydrant and ladders. Gift ideas for firemen and female firefighters from Bonfire Designs.
Firefighters Think Green To Save Our Planet!
Firefighters care about saving our planet and think green at home and in the fire dept. Check out our firefighter maltese apparel featuring recycle and the planet earth logo from Bonfire Designs.